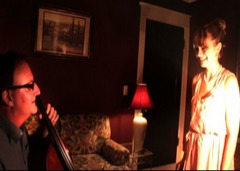 Nashville, TN – April 12, 2012 – Tennessee Governor's School for the Arts has announced that the ten-minute short film entitled Diminuendo, a touching drama conceived, written, directed, and produced by young film makers who participated in the 2011 summer Tennessee Governor's School for the Arts Film Program, has been selected in the Young Filmmakers Short Category for the 2012 Nashville Film Festival (NaFF) held April 19 – 26, 2012 at the Regal Green Hills Stadium 16 in Nashville.
Twelve talented young Tennessee filmmakers were selected to participate in the 2011 GSFTA Film Making program—an intensive four-week program designed to completely immerse high school students in the art of film making in a collegiate environment that is also indicative of the professional world of motion picture creation and production. The twelve were divided into two teams of six and each team was responsible for conceptualizing, writing, directing and filming a short film. The two films produced by the young filmmakers are entitled Pair of Normal Activities and Diminuendo. Both films were submitted for consideration to the Nashville Film Festival. Diminuendo was selected from more than 2800 short film entries and is one of 7 selected for screening in the Young Filmmakers category.
Diminuendo is the story of Spenser Dalton—a world-renowned cellist whose only daughter has recently died. Beset with grief, he spends his days wandering aimlessly until he picks up his cello again and begins to play it. Suddenly, the artistic passion he always shared with his precious daughter suddenly brings her back.
The instructors for the Tennessee Governor's School for the Arts/Film Program are Sam Dalton and Spenser Fritz. The twelve high school students who participated in the 2011 GSFTA Film Program include:
Kelsey Blackwell*
Sophie Epstein*
James Hallock
Abigail Hodge
Lara Johnson*
Julia Jones
Sophia Mason*
Alexander Mattingly*
Meagan "Lizzi" Stanfield*
Will Stewart
Maranda Vandergriff*
Austin Vincent
(* Indicates members of the team that created, wrote, filmed, produced and/or performed in Diminuendo.)
For more information visit NashvilleFilmFestival.org.
(Photo: Sam Dalton, left; Kelsey Blackwell, right.)