Thank you for your understanding and support!
Please see our special statement below:
Last month the school staff learned that for the first time since its inception, the Governor's School is facing a devastating budget cut (26%) that would seriously threaten the integrity of the school and the number of students that could attend. While we work through this grant reduction for 2013, we are asking everyone to please contact their district legislators and let them know what this program means to students in Tennessee and, to insure that the program continues to be funded and the budget restored for the future.
The School needs your help! If you can afford to make a donation, please scroll down and do so now. If you work for or know of a company or organization which could provide funding, please let us know the name, phone number, address, and a contact person. All contributions are tax deductible.
Contribute to the Future of Tennessee's Young Artists
Since the school's in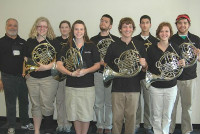 ception, funds have been appropriated by the General Assembly of the state of Tennessee through the State Department of Education. For the past 15 years, this funding has not increased. Due to rising costs, the school has decreased the number of students invited in order to maintain high quality in artistic instruction. As of 2004, the number of students attending the school has dropped from 350 students to the present level of 230 students.
Over the past 10 years, numerous components of the program have been scaled back or withdrawn in order to maintain the integrity of the school. The commissioning program no longer exists, and evening programs which benefited both the school and local community have been drastically reduced.
It is the mission of the school to enhance the fundraising campaign in order to reinstate community outreach, numbers of students attending, and program components that have been scaled back. Due to the diligence of the staff, generosity or parents, alumni, corporate sponsorship, patrons, and the Nashville Symphony, the school was able to invite 232 students for the 2009 summer session and hold finale performances at the Schermerhorn Symphony Center in Nashville.
Please consider making a donation in any amount to support our talented youth and arts education in Tennessee. All donations are tax deductible. Your generosity will ensure the continuation of this esteemed program.
Donate Now
To donate by mail, please send checks payable to GSFTA to the following address:
Tennessee Governor's School for the Arts Middle Tennessee State University
1301 E. Main St.
Box 38
Murfreesboro, TN, 37132
If you would like to donate using a credit card, please call the office at (615) 898-2223 and we can take your donation over the phone. Office hours are M-F 8 am – 4 pm CST. Thank you!
For questions or general information on the Tennessee Governor's School for the Arts, please fill out the contact form below to send us an email.